Thank you Janice Kortkamp, citizen of the United States of America, for courageously speaking out on the brutal truth of massive war crimes committed against the people of Syria.
Friends of Syria
By: Janice Kortkamp
Date: March 18, 2018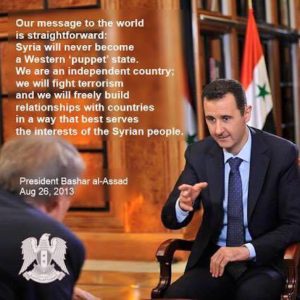 "The 'American Century' Is Over, and It Died in Syria" declared Hal Brands in Bloomberg View on March 8. Yes and thank God it is over. The house of truth fell on the American Century's terrorist witch in Syria; all that's left is its dangling scrawny legs – and the ruby slippers of reality that might help get America back on the road to maybe, someday, leading by example instead of Tomahawk missiles. It's time for the witch to curl up and finish dying already so humanity everywhere can sing, "Ding dong the witch is dead" (from the 1938 classic, "The Wizard of Oz")  and Syrians can get their country and some of their future back.
Everything but Brands' conclusion is routine, absurd "American Centurion" lies and propaganda. His introduction is this: "The forces of democracy and the great moral gains of the New…
View original post 3,880 more words